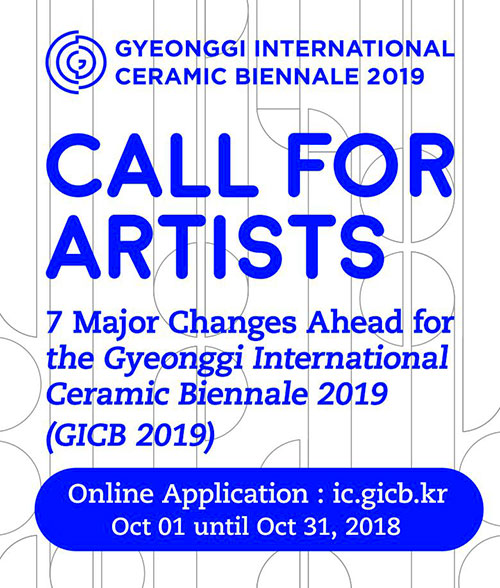 The Gyeonggi International Ceramic Biennale (GICB), which celebrates its tenth edition in 2019, is expected to undergo significant changes, especially in regard to its "international competition".

The upcoming edition of the Biennale will present diverse programs such as the academic symposium and workshop in a comprehensive, multi-tiered format within the framework of the international competition, as opposed to the past in which the biennale hosted programs individually.
The GICB International Competition 2019 – as an exhibition showcasing the present and trends of global ceramics and acting as a gateway for newly emerging artists to acquire a presence in the global art scene – will offer diversified support programs that will help artists expand their worldview.

We'd like to ask for your enthusiastic participation in International Competition 2019!
Major Changes Ahead for Gyeonggi International Ceramic Biennale 2019!

▶ 7Major Changes ahead for International competition 2019
- The artists offered individual exhibition space.
- Round-trip shipping fees for the selected artist covered by GICB
- All selected artist invited to GICB
*If you want to know the other changes, please visit our website: ic.gicb.kr

▶Eligibility
Artists from all parts of the world are welcome to submit works, both artistic and practical, made from clay (ceramics) or made with the theme of clay (ceramics)
No entry fee!!

▶Total Cash Prize
KRW100,000,000 (93,222.00 USD) for seven (7) main nominees
The Grand Prize Winner will receive a cash prize of KRW 50,000,000 (≒ 46,620.00 USD) and will be invited to solo exhibition during the GICB2021.

▶How to apply

Period: October 1 (Mon) – 31 (Wed), 2018
Method: Online submissions (ic.gicb.kr)
▶Exhibition Period
August 2- November10, 2019 (tentative)

▶For Further Information: This email address is being protected from spambots. You need JavaScript enabled to view it.

Click to see more details: http://ic.gicb.kr/eng/main/index_2018.asp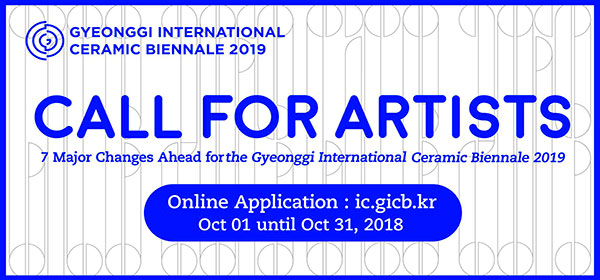 ---
Selected artworks in 2017

the other selected to this web page: http://ic.gicb.kr/eng/submit/view_final_2.asp