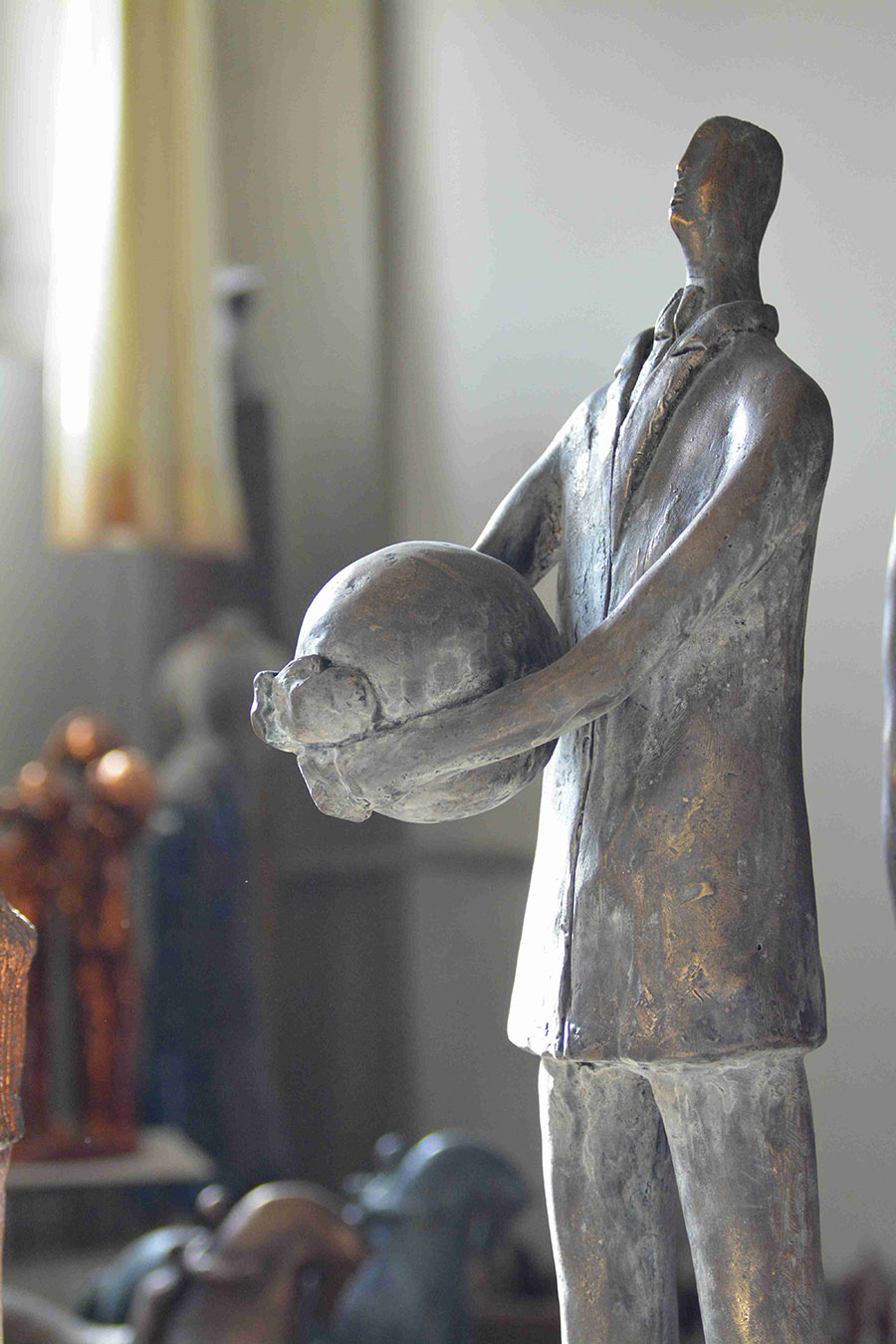 Sowing the seeds of Art. This is our second edition of an idea for an exhibition here, the fruits of a positive collaboration between the Gulliver Gallery-terre d'autore of Lorenzo and Susanna and the Boutique Hotel zum Rosenbaum of Marion and Alberto. During the spring/summer of 2016, the gallery is presenting the artworks of the Tuscan sculptor, Paolo Staccioli, sculptures in ceramic and bronze in the renovated areas of the hotel, comfortable, quality accommodation in Nalles, between Bolzano and Merano.
Over the years, Gulliver Gallery has been totally convinced that art can be conceived as an act of planting the idea of art that goes beyond simply viewing it. Once more, moving away from established spaces more commonly designated to the presentation of contemporary artworks, they have created a different approach and a new philosophy for encountering art. The Boutique Hotel zum Rosenbaum, by its very nature a place of hospitality, has now become a consolidated fertile terrain for cultivating culture where it has now been transformed into live matter for growing, communicating, participating, exchanging. Sowing the seeds of art to harvest culture.
Paolo Staccioli, born in Scandicci (Florence) in 1943, began his experience as an artist in the nineties, starting off as a painter. At the beginning of the nineties, his desire to experiment new expressions in art led him to Faenza where he refined the techniques of ceramic art. In the first years of the millennium – however without having ever abandoned his love for working clay – he began to transfer his shapes also in bronze.
Two art critics have written about the Florentine artist on this occasion; Ornella Casazza, former director of the Museo degli Argenti e delle Porcellane in Pitti Palace in Florence and Laura Felici, Professor in the History of Art, Artistic High School in Porta Romana, Florence. From them, we quote two brief passages.
"They are, however, male and female figures charged with a mysterious charm: without arms, often the legs broken off at the knee, they remind us of fragments and move us to look for quotes from the distant past, the near past and even from the present: they motivate us to retrace a flow of links and to carry out logical critical thoughts inside the most intimate and always mysterious processes." O.Casazza, Art Historian, former director of the Museo degli Argenti e delle Porcellane in Pitti Palace in Florence.
"The ancient Greek proverb "the art of the ceramic artist lies in the bowl" sews in beautifully with Staccioli's artistic journey, because, in gradual steps, Paolo has managed to build his art on the essential mastery of the basic secrets of this humble craft until he reached a solid personal approach that has been admired by the eminent critic who has taken an interest in him and the vast public of sensitive collectors."
Laura Felici. Professor in the History of Art.
"Sowing the seeds of Art" 2nd edition From 15th April to 22nd October 2016
Bronzes and ceramic sculptures by Paolo Staccioli
BOUTIQUE HOTEL ZUM ROSENBAUM
vicolo dell'Oro 3 | 39010 Nalles - Strada del Vino - Alto Adige Tel. +39 0471 678 636
www.rosenbaum.it
a cura della galleria GULLIVER – terre d'autore
via Mentana 6 | via Garibaldi 47 – 57033 Marciana Marina (LI) isola d'Elba tel 0565 99113
www.gulliverarte.com
Salva