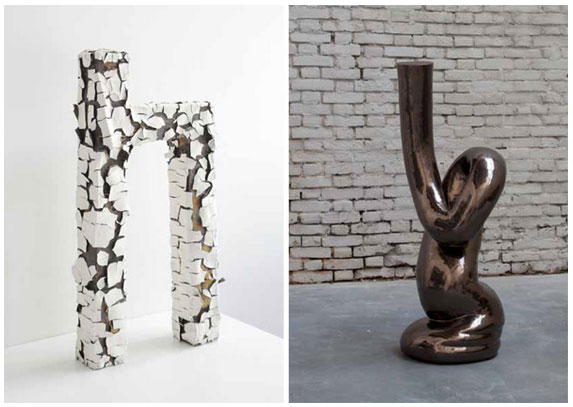 Irina Razumoskaya I Mariko Wada. Ritual voids
Officine Saffi I via Aurelio Saffi, 7 I Milan I Opening reception 29 September 6.30pm

30 September – 9 November 2016
On Thursday, September 29, Officine Saffi inaugurates the exhibition IRINA RAZUMOVSKAYA I MARIKO WADA. Ritual voids. A compelling research into international contemporary art, that sees two artists in comparison, approaching from two different regions of thought, even though they are in direct contact: Irina Razumovskaya (born 1990 in Leningrad, USSR) and Mariko Wada (born 1972 in Osaka, Japan, living in Denmark since 1998).

In the curatorial text for the exhibition, Ginevra Bria writes:
"Ritual voids explores the act of creation that lies at the origin of their work; they are two sculptors, two ceramists, and their activity is a liturgy of purity and constant initiation. Not just a sequence of gestures, but motion consisting of the countless ventures of an interior world, actions that, when applied to articulate and inarticulate forms, transform them into biomorphic and metamorphic objects.
Their volumes conserve their phenomenological space, maintained by the space that seems to generate them from within. Volumes that conserve their power to perpetuate a state of sculptural persistence within space, from inside the vacuum generating them."
IRINA RAZUMOVSKAYA I MARIKO WADA. Ritual voids
30 September – 9 November 2016

Opening reception: Thursday, 29 September 2016, 6.30 p.m.
Opening hours: from Monday to Friday, 10.00am – 6.30pm. Saturday 11.00am – 6.00pm. Sunday by appointment.
Admission free

Visitor information
Tel.: +39 02 36 68 56 96
e-mail: This email address is being protected from spambots. You need JavaScript enabled to view it.
www.officinesaffi.com

Press information
Francesca Salvatore
Tel.: +39 02 36 68 56 96
e-mail:
This email address is being protected from spambots. You need JavaScript enabled to view it.
www.officinesaffi.com
Salva
Salva